Our Products
Discover Pacific Smart Floors
​
ELEGANCE MEETS INNOVATION
The latest in flooring technology.
​
Pacific Smart Floors is a cutting-edge product engineered to meet the unique requirements of every room, residential or commercial.
​
100% Waterproof
​
Due to the materials that make up the patented 4 layer system, our floor is 100% waterproof.
​
No more warped floors!
Pet Friendly
​
The thick wear layer (20 mil), anti-scratch, and easy to clean properties makes this floor perfect for pets.
Say goodbye to scratched floors!
Durable & Long Lasting
​
Rated for commercial & Residential use.
Engineered to withstand a lifetime of memories thanks to the combination of stone and polymer materials. Guaranteed for 25 years*
Unmatched Quality
​
Every detail is designed to capture the unique beauty and feel of real wood.
6 mm Thickness
The perfect thickness for enhanced durability without being bulky
Sound Abatement Underlay
​
The high-density foam underlay prevents sound transfer and adds a layer of cushion for your feet.
Easy-Click® System
​
Easy installation with no glue, no mess, and installs 30% faster than other click-system flooring.
Works with In-Floor Heating
​
Perfect for in-floor heating. Can be installed (with underlay) over in-floor heating. Underlay does not affect in-floor heating.
A Proprietary System
​
​
Each layer that makes up a Pacific Smart Floors is innovative and patented, put together to create a product that guarantees maximum quality, performance, durability, and aesthetic.
​
​
Everything you need in only 6 mm.
Wear Layer: The wear layer is 20 mils thick (0.5mm), much larger than the 8 mil industry standard. Our thick wear layer not only protects the flooring, but also boasts: superior anti-scratch qualities, an anti-slip certification, UV-resistance, a non-static coating, and has natural anti-bacterial properties due to the pore-less nature of the coating.
​
Vinyl Graphic: Our Vinyl Graphics are designed and manufactured in Germany utilizing the best and most modern photorealistic graphics available.
​
Core: At the core of each Pacific Smart Floor plank is a patented composite blend of SPC. The core allows the flooring to be 100% waterproof, extremely durable, impact resistant, and fire-retardant.
​
Underlay: Our patented sound-abatement underlay comes attached to each plank and is made of ultra-high-density foam. Our underlay prevents sound transfer between floors, helps maximize comfort when standing for long periods of time, and allows for an easy and fast Installation with no glue or nails needed. Our underlay is engineered to not interfere or block in-floor heating and can be installed over top of in-floor heating.
Residential Warranty
​
​
We stand behind our product. We offer a 25 year warranty for all residential applications - including use in wet areas.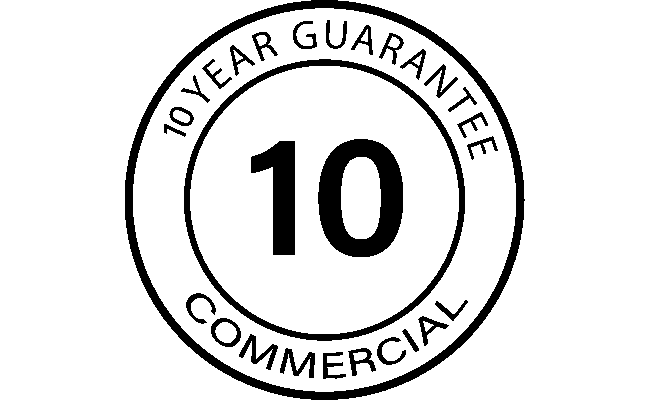 Commercial Warranty
​
​
We stand behind our product. We offer a 10 year warranty for all light commercial applications - including use in high traffic and wet areas.
Discover our quick and simple installation
Our patented installation system is designed to install faster and hold stronger than most systems available on the market today - saving you installation time and money.
​
Discover a quick, mess-free, and gap-free installation.